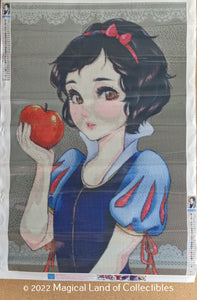 This diamond painting displays Princess Snow White in cartoon form.
Image is for reference only, final design still being confirmed.
Canvas: 20" wide by 30" long.
*Please Note: This is a pre-order item. The month stated is an estimate only, not a guaranteed shipping time frame. We cannot control any delays or issues that arise from our suppliers and will always do our best to provide updates as they come.
Each painting comes with the following:
-Canvas
-Round Diamonds
-Two sided application tool
-Diamond Tray
-Diamond Adhesive
-Small bags to seal excess diamonds.
Click here to learn how to paint with diamonds !